Date: 12 June 2018
Renovate It is part of the Switched On Group. We've created Renovate It to better serve the needs of our residential customers by making home renovations even easier. Before Renovate It, we helped customers realise their home renovation dreams through our company Switched On, under which time we won multiple awards.
Switched On has taken out four awards at the prestigious 2018 New Zealand Master Painters Awards, including a top award for Residential Excellence.
Switched On received a Gold Award in the Residential Excellence in New Timber category, as well as Highly Commended Awards in the Commercial Rework Exterior Contemporary, Residential New Interior, and Residential Rework Interior categories. The awards were presented on the evening of Friday, 8 June, as part of the annual Master Painters AGM and Conference in Queenstown.
Managing Director Chris Hughes says the awards recognise the company's commitment to setting a benchmark for quality in the painting industry.
"We are extremely pleased to receive these awards from Master Painters. Switched On has been going from strength to strength, solidifying our base in Christchurch and continuing to grow both our commercial and residential offering in Wellington. Regardless of the number of jobs, or type or complexity of project, the focus of our team of Master Painters, Builders and Electricians is always on delivering exceptional quality work at the top of our industry – these awards are validation of that."
This is the second year Switched On has entered the awards programme run by the national body for the painting industry in New Zealand, receiving three Gold and two Supreme Awardslast year.
This year Switched On entered three projects, receiving an award for each. This included the exterior and interior high quality finish of a 373m2 home in Christchurch; the transformation of a previously run-down 1930s farm cottage on the Kapiti Coast; and an extensive programme of exterior painting spread over almost 10 of the Wellington Girls' College blocks.
Mr Hughes says as well as the high quality of workmanship, the three entries demonstrate the range of projects the Switched On team can deliver.
"Each of these projects was very different, with its own set of complex requirements and challenges. Receiving awards for all three entries shows our strength in both commercial and residential work, as well as interior and exterior work on renovations and maintenance work."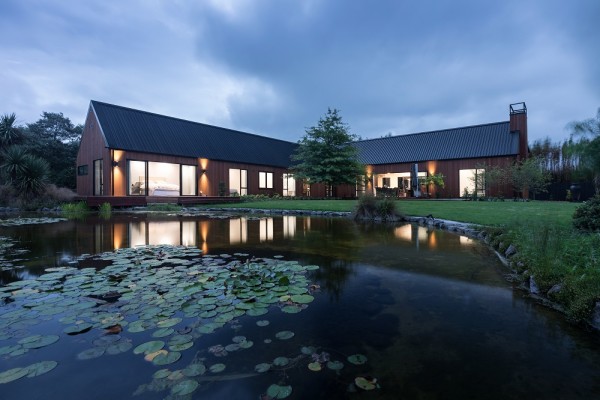 Switched On received a Gold Award in the Residential Excellence in New Timber category, as well as a Highly Commended Award in the Residential New Interior Over $25k category for their paint work on a single-level home in Te Korari Street, Christchurch, owned by Geoff and Sue Hughes.
The home features a vertical cedar shiplap weatherboard pattern on the exterior, with a stain finish colour-matched to enhance the timber, with painted structural steel pergolas and Kwila decking. Inside, the level 5 finished walls and ceilings offer a high-end, silky-smooth finish, with faultless dark patterned wallpaper and dark painted feature walls. Switched On worked closely with designers Ingrid Geldof and Rachel Barnes from Ingrid Geldof Design, as well as Jane Swinard from Jane Swinard Design, to ensure everything was colour-matched.
Mr Chris Hughes says the care that went into achieving a top-quality finish by a very dedicated team of professional painters is evident throughout the home.
"The team that worked on this project continuously added elements to make it extraordinary, such as painting the wall black before hanging dark wallpaper. Even though the paper-joins are tightly finished, this provides added protection for the future when there may be movement, ensuring the joins won't show. The finish is in a category of its own."
Switched On received a Highly Commended Award in the Residential Rework Interior Character category for the transformation of a previously run-down 1930s farm cottage into a high-end accommodation venue on the Kapiti Coast. With a mixture of original and new spaces, including an extension and a new bathroom, the focus was on creating a seamless finish across the interior and exterior of the property to make it look fresh, while still preserving the character of the building. The interior was stripped and completely relined to achieve a smooth and consistent Gib, plaster and paint finish, with special attention paid to detail, such as the alcoves. Original features, including the fire surround, were carefully stripped and re-stained.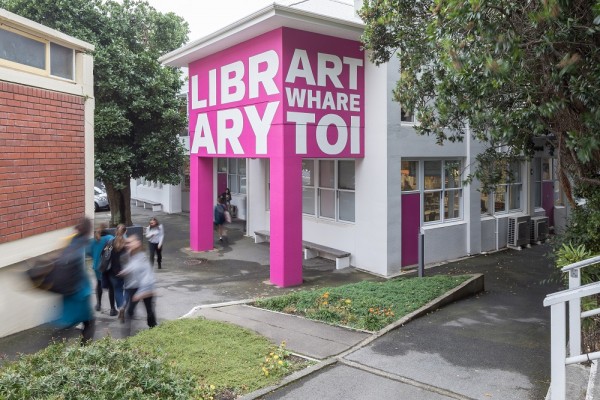 Switched On also received a Highly Commended Award in the Commercial Rework Exterior Contemporary category for their third entry – an extensive programme of exterior painting at Wellington Girls' College. The scope of works for this project was spread over almost 10 of the school's blocks. The buildings were first painted in one of three shades of grey, adding bright feature colours toward the end of the job, ad bilingual signwriting. As well as the large area to paint, and the significant amount of scaffolding needed, the Switched On team had to work strategically to achieve the desired result within three school holidays.