Date: 7 April 2018
Keeping your rental property tidy and up to date not only means you can command a higher price from your tenant, you're also more likely to attract a better calibre of tenant, one who will take good care of the property while they live there. Here are 12 things you can do to help increase your rental income.


Know what's important to the tenant
The right tenant, who is willing to pay a premium for a better quality of rental, is looking for a place that doesn't require any maintenance on their part; it's move-in ready. They want to see clean and tidy surfaces, and they want it to be warm and dry, secure and modern. To know what your property is worth, do a bit of research at other rentals of a similar size in your area on TradeMe or the likes.


Plan for renovations and spruce ups
Along with standard repairs (see below), plan for the bigger jobs too; paint every 5 years, and you should know roughly when a new kitchen or bathroom is going to be needed. Having these on your radar means you'll be able to save towards them.
In between tenants is an ideal time to bring your rental property up to scratch as you're not disturbing anyone and when the property goes back on the market it's for a higher price.


General repairs and replacements
At each turnover of tenant, walk through room by room making a note of the things that need fixing - any loose door handles, peeling paint or wallpaper, curtains not hanging right, patches of damp, drawers and doors that stick…be fussy. Anything that's in really poor condition should be repaired or replaced.


Give them peace of mind and security
Make sure all the locks work well and have at least two keys each; this includes gates and sheds that might also be on the property. Replace any blown blubs in the security lights and make sure those are in working order.

Be warm and winter-ready
A warm, dry rental will mean happy, healthy tenants who are willing to pay more. Ensuring your rental property has adequate insulation is now your legal responsibility as a landlord. Prioritise insulation in the ceiling and underfloor.
Make sure it has a well-functioning heat source; heat pumps are the most preferred by tenants because of their energy efficiency. Service/clean the chimney and any wood burners.
If there are any damp areas in the house, run a dehumidifier to dry it out and address the source of the moisture.
Water blast any slippery build up on the deck or patio outside. Make sure the gutters are clear and trees have any dangerous branches trimmed.


Sort out the street appeal
This really is just as important when renting as it is when selling. At a minimum, tidy the gardens and mow the lawn and berm. If you wanted to go a bit further, paint the fence and replace the letterbox if it's really old. Make sure the exterior of the house is in good shape.


Paint
There's no better bang for your buck than paint. Choose a neutral colour and try and use a paint that is easy for your tenants to clean.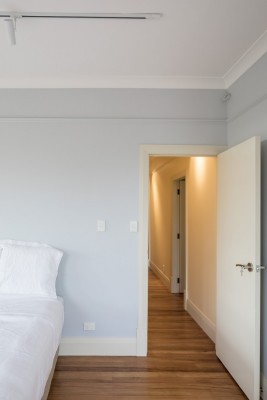 Carpets and flooring
Updating the floor coverings these days is a relatively inexpensive and effective way of modernising a property; an easy way to up the value of your rental.
With anything in your rental property, repair before your replace. If the carpets don't need replacing, have them professionally cleaned, even if the tenancy agreement stipulated that your vacating tenant should have done this. Really clean carpets look fantastic and they make the property smell so fresh and clean.
Appliances
Broken or poor performing appliances are a real issue for tenants and can tilt the scales more than you'd think. They don't like to have daily conveniences threatened. Tidy new appliances also go a long way to convincing prospective tenants your property is worth the premium.
Curtains and blinds
Just like floors, new window treatments can transform a room and are relatively inexpensive for the effect and return they'll have.
Kitchen & bathroom
When selling a property, good kitchens and bathrooms can make or break the deal. However, while you are just renting it you need to find the balance between adding value short-term and over-capitalising long-term.
Tenants don't want to see faded, dated, chipping, peeling surfaces. For a light-touch refresh, repaint and replace cabinet doors and handles and get new lighting. Freshen up the bathroom with a new shower curtain.
When it's time for a complete overhaul, shop around, a basic kitset or fixed renovation package will probably give you all your need within a certain budget.
Outdoor entertaining area
Kiwi tenants love a good outdoor area and will pay more for a property with one. Make sure it's clean and tidy and that any landscaping is of the low maintenance variety. Too much will overwhelm people.
If you're considering renovating to add value, you might find our free guide really useful. It covers where to start, setting your budget, what to expect during the process, and goes into detail on certain projects. Download your free copy here.