Date: 8 November 2017
The work triangle
For most people, the fridge, oven and sink/countertop are the main players in cooking. The most functional kitchen designs have these items placed at certain distances from each other to form a triangle that allows you to move freely, safely and quickly from one to the other.
As with anything, there are exceptions to "the rule"; for example, in a single wall kitchen it's impossible to have a triangle. However, you can still be efficient by having the key points in close proximity to each other. The same goes for small kitchens; if you're unable to increase space when you renovate, you can ensure the key points of the triangle are still within a good distance.


Does size matter?
Not really. You just have to be smart about using what you have available. First of all, have a good clear-out of all the things you simply don't need.
Maximise corner cupboards with carousel shelving the spins around so you can access everything in it easily.
Wall to ceiling cupboards make the most of space with the added bonus of not having to clean the tops of them.
Roll out shelving means you can use small skinny spaces to store lots of stuff and access it easily.

Hang things
Even if space isn't at a premium, use magnets, hooks and rods to hang things on the wall and from the ceiling to help keep cupboards, drawers and benches uncluttered. It often makes the items handier to use too! Keep knives on a magnetic strip, hang utensils on hooks, hang pots and pans from a rack suspended from the ceiling, and there are all manner of nifty ways to store herbs and spices on the wall.


Store things near where you need them
To improve functionality, think practicality. When laying out your kitchen, plan where appliances and things go depending on how often you need to use them and what they're used for. This will be unique to how you like to cook but as an example, have the salt and pepper stored right near the oven for seasoning as you cook, have your chopping boards in an alcove near the bench so they can be retrieved with ease rather than tucked away in a cupboard, or put the toaster and jug close together to make breakfast easy.

Have a kitchen island or butcher's block
Because kitchens nowadays serve more than one purpose, most modern kitchens are designed with an island or butcher's block in the centre. This adds more bench space and storage opportunities. A U-shaped kitchen island offers even more!
And you can't go wrong with a second sink in your kitchen island too. While it's not essential, it offers the luxury of being able to prep and cook food without dishes getting in the way.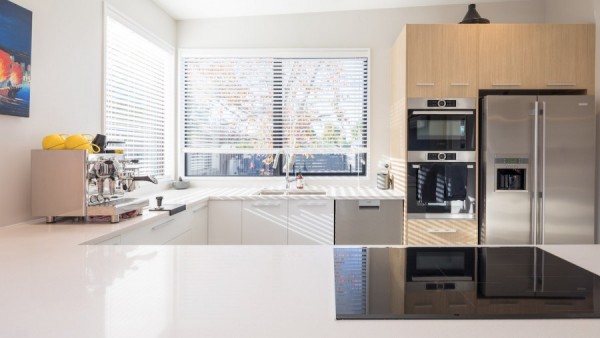 Organise your storage well
You'll decide for yourself how much storage you need. But once you have that sorted, organise it well. Label things clearly and store then in priority order so the least used items aren't in front of the ones you need all the time. Or divide up your storage into categories like baking goods, sauces, oils and vinegars etc. Kmart have a great range of storage items to help make your kitchen more functional. The 3-tier shelf is a popular one, stacking cans and jars at different levels means you can easily see and reach for what you have.


Cupboards are more than just storage
Forget the butler's pantry; it might be trendy but it's an extra expense in your renovation budget and not a great use of space. It's also not that efficient or functional because you have to (essentially) go into another room to fetch ingredients and use appliances!
Instead, think about including a few deep cupboards with bench space, power points and lighting in them. Store your appliances here so you can use them then close the door and forget about them. You don't have to lug them in and out every time you want to use it. Think about the kitchen mixer – it's a reasonably heavy, bulky item, wouldn't it be great if it was all set up and waiting for you in a cupboard.
And to maximise space, surround the walls of these cupboards you'd have shelves to store food items on.


Prepare for other uses
If you don't have a home office, think about including dedicated non-cooking areas and storage for all the other things that happen in your kitchen.


Kitchens add value
Not only does it make your life better while you're living in the property, the kitchen is often the deal maker or breaker when it comes time to sell. Renovating to ensure your kitchen is well designed and functional adds a lot of value to your home.