Date: 8 May 2018
Will you be moving the plumbing?
The first thing to decide is if you're moving pipes or not as changing the plumbing is an expensive task. Even switching from a traditional floor-mounted vanity to a wall-mounted version could mean having to reroute pipes and drains. This could also mean a consent is required.
Placement
The vanity needs to be in a place that won't mess with the flow of traffic in the bathroom but is still accessible (sometimes by more than one person at a time).
Think about having room for doors and drawers to open, including the bathroom and shower doors.
As a general rule, 600-700mm is a good distance between things in the bathroom.
Think about the surrounding walls and windows. The vanity will need a mirror above it so make sure where you place it has adequate room for it.
Storage
Do an inventory of what you have in your current bathroom then add about 20% more space than you think you'll need. Under a vanity is an ideal storage spot, which is why many are designed and built in to cabinetry. But it's not a good place to have the things you need most often as they're not that easily accessible. This may mean you need some cabinets or shelves on the wall higher up.
Scale
No matter what your storage needs, your vanity size should always be relevant to the size of the room, not too big and not too small. There are three measurements to take into consideration:
Width - right off the bat this will tell you if the vanity will fit into your space or not and whether you can have a double basin.
Depth - consider potential obstructions around your vanity (eg. doors, walls, other bathroom fixtures).
Height - traditionally around 80 centimetres is the go-to height but it's really up to what you need and who will most be using the vanity. If it's a bathroom for children lower the height, if it's your master bathroom and you're a bit taller, have it at a height that suits you.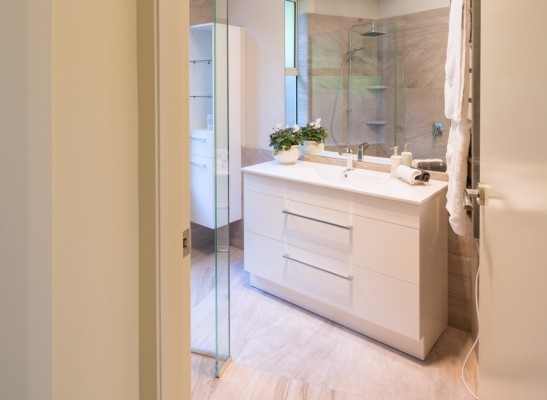 Materials
Bathrooms are hot, humid, wet and busy so your vanity needs to be made of materials that can stand up to that. Wood is porous so wood veneer is a better option; even if it's well sealed and lacquered wood can still be easily damaged. And be wary of tiles, dirt and grime gets stuck in the grout so make sure it's easy to clean.
The basin
One or two, deep, scooping bowls or flat square dishes, built into the bench top or sitting on top of it… you have a lot of choice. Think about how the vanity needs to perform to make the right choice. If this is the main bathroom, two sinks will help keep things moving.
Other features to think about
Lighting inside the cupboards and drawers
Sockets for handheld appliances in the cabinetry
If you're keen to get started on your bathroom renovation, so are we! Get in touch now to book a free consultation with one of our project managers. Let us help you choose the right vanity and give you all the advice you need for a great result.