Date: 12 August 2018
Toilet, basin, shower and bath – the plumbing fixtures in your bathroom reno are where a lot of your budget will go. For those looking to keep the budget minimal there are plenty of value options available, products designed to look smart and do the job but nothing more. Or you can be inspired by 5-star spas and resorts and treat yourself to luxury products with features galore. Either way, let's look at what's available and what you need to consider when choosing these fixtures. In part 1 we'll cover showers, baths and toilets.
Where to start
Visit some bathroom showrooms. Not only will this give you an idea of the vast array of products out there, you'll get an idea of what they cost so you can align them with your budget.
Shower fixtures
There's no need to limit yourself to one showerhead. Dual fixtures are becoming more and more common in large showers meaning shower time can be shared, or you can enjoy different shower experiences depending on what you're looking for, eg. massage, general cleaning, washing pets, etc. Here are the four types of shower units most commonly available:
Wall-mount unit - basic but effective, can move a little bit but stays in a fixed spot on the wall.
Hand-held unit - being able to remove the shower head is very convenient and often offers different spray formation and pressures.
Body sprayers - placed throughout the shower these can massage the body or produce a relaxing mist. Body sprayers are extras in the shower and you will also need a wall-mounted or hand-held unit also.
Monsoon or Rain shower head - mounted up high and out from the wall, it's like standing under a waterfall. It's debatable whether this is a good option on it's own. It does offer full coverage but not as versatile as a hand-held unit so maybe consider a combo. Word to the wise, you need good water pressure for a rain shower head to be as effective as is intended.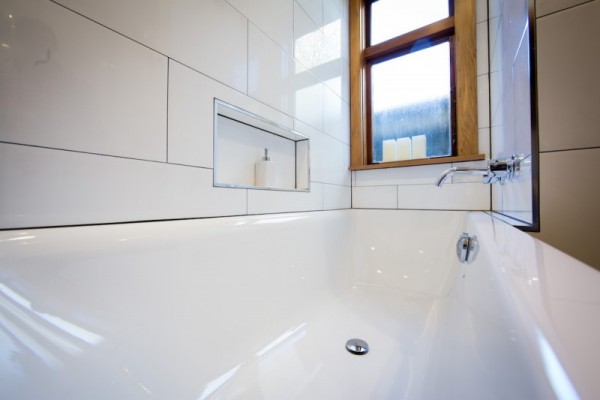 Baths
Baths are becoming less common in Kiwi homes but they're still nice to have if you want to relax with a good soak every now and again. There are lots of choices too:
Cast iron - durable, vintage look, very heavy so may need extra support
Acrylic - similar look to cast iron but lighter, less prone to colour-fade than fibreglass
Fibreglass - easy to clean, lightweight, good value for money
Composite - made of engineered material and coated in enamel, ideal for deluxe bathrooms
Cultured marble - solid surface, luxurious look, cracks cannot be repaired however.
Porcelain-on-steel - great heat retention, varies in prices depending on quality and durability
Alcove - recessed tub adjacent to walls
Platform - dropped into a deck-like structure/enclosure, good for spa baths as it can hide the pump and hardware
Undermount - similar to platform but the rim of the bath is covered over and is supported from underneath rather than hanging. Requires very exact measurements to fit perfectly with no leaks.
Freestanding - not attached to any walls, creates a beautiful feature in the bathroom.
Bath/shower combo - a good compromise if you want both but have limited space, this is the classic bathtub with a shower head on the end wall.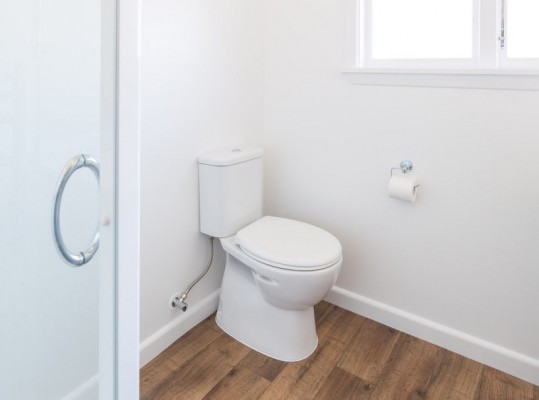 Toilets
When choosing a toilet, get one that can easily be retrofitted. Look for a flexible wait and multiple water inlets. Chances are your old toilet uses a lot of water so now's your chance to choose something more efficient. Here's a rundown of the variety of choice in toilets:
Wall mounted - saves on space.
Floor mounted - traditional toilet, good value option
One piece - toilet and cistern all as one piece
Two piece - a separate toilet bowl and cistern
Hidden cistern - because the cistern is built into the wall these toilets afford a bit more space
Comfort height - around chair height (16-18 inches rather than the standard 14-15) these are easier to get up and down from.
Elongated bowl - offers greater comfort but takes up a bit more space than a traditional round one.
Bidet - not just for the French anymore, with more people wanting better hygiene installation of bidets worldwide is on the up.

If you're keen to get started, so are we! Simply download our Bathroom Renovation Checklist and book in for a free consultation with one of our project managers. We can go through your ideas together and turn your bathroom dream into a reality.