Date: 15 October 2018
The beginning stages of planning your bathroom renovation are an exciting time. Now is when you get to dream BIG…before the realities of budget set in. Here are our top nine luxury items or architectural features that will take your bathroom from ordinary to extra!
High ceilings
There's no doubt high ceilings - like a Cathedral-style pitched roof - really impress and break out of the box architecturally. However, because this can call for some rather major construction work, it won't be an option for all home renovations.
Raising ceilings without raising the roof will depend on how much useable space already exists as well as the age of the property (eg. newer homes with pre-made trusses offer less wiggle room). Other considerations will be (should you decide to repurpose the existing roof cavity space) how it will affect the placement of insulation around the bathroom, where a ventilation system, lighting and wiring might go, and how you intend to heat the bathroom with the added space.
Skylights
Installing skylights is totally transformative. Increase your sense of light and space in the bathroom and potentially decrease your need for electric lighting. If your bathroom has a pitched roof, a classic and elegant look is to have double skylights that meet at the apex. Skylights are the answer to livening up bathrooms with small, few or no windows. An en-suite is the perfect example. Rule of thumb, if your bathroom has a lot of windows already, total skylight area should be no more than 5% of floor space. For rooms with few or no window area, 15%.
Solar light tubes or 'sun tunnels' are another option.
South-facing skylights will provide the best light as it avoids glare and heat gain. And be sure to pick ones with good thermal performance characteristics. If your skylight is installed through a roof space, make sure the light shaft between the roof and the ceiling is well insulated.
Stone surfaces
Natural stone surfaces make a bold and clear statement about luxury. Whether you prefer granite, marble or opt for engineered quartzite materials, you can just splash a little bit about in the form of a countertop or you can large and do the whole room. As a wet area it's suitable for the counters, floor, walls, shower and bath.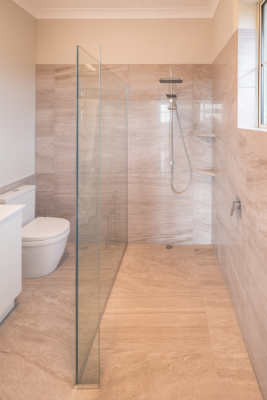 Walk-in shower
Aesthetically very pleasing, a walk-in shower provides a seamless transition from the rest of the bathroom and helps to create a nice roomy feeling. They're also a neat idea if you're planning on living here into your old age, as the lack of obstructions makes them much more safe and accessible.
Perhaps the best and most desirable feature for walk-in showers is the versatility it offers for what you can decorate the walls and floor with; artistic tile patterns, brick, marble or stone, corrugated iron, wood, slate slabs, the list goes on.
Feature flooring
Your options are almost limitless when it comes to creating a statement floor in the bathroom, but here's a new idea: install a floating, wooden slatted floor in the shower. It's so elegant and unusual and hides the ugly drainage system.
Lounge it up
An emerging trend in bathroom renovations is giving the space elements of a living area. Items such as TVs, gas fireplaces and comfortable seating are finding their way into bathroom décor.
http://www.hgtv.com/remodel/bathroom-remodel/bathrooms-with-luxury-features-pictures
Adjoining dressing room/wardrobe
This works best with a master en-suite, but having the bathroom and walk-in wardrobe connected is both luxurious and convenient. It means that you can get ready all in one area leaving another person to enjoy undisturbed sleep in the bedroom.
Infinity bath
This is possibly the most ultimate item that will bring the luxury spa experience to your home. Infinity bathtubs allow the water to overflow into a surrounding channel and it's then pumped/re-circulated back into the tub, all the while an in-line heater keeps it warm. It doesn't get much more relaxing than being fully immersed in the perfect temperature while listening to the gentle sounds of bubbling water.
The latest tech and gadgets
Even the bathroom can be enhanced through technological advances. If singing in the shower is one of your guilty pleasures, take the opportunity of a renovation to build in some state-of-the-art technology and speakers that brings music into the bathroom. Some showerheads even have speakers!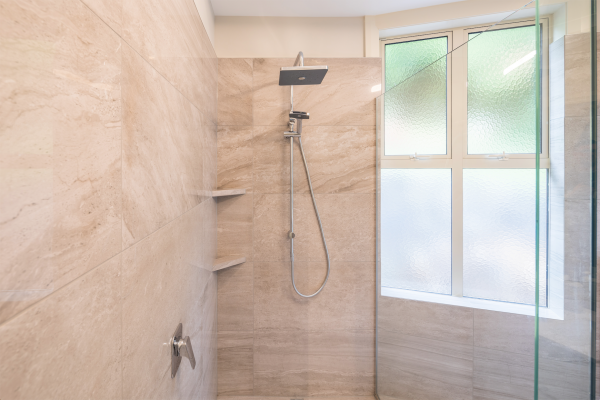 Upgrade to a self-cleaning, automatically opening and closing toilet with auto flush, heated seat and nightlight.
Have a screen in the mirror to follow a make-up tutorial, for example.
Digital faucets monitor and help improve water usage.
And while the humble heated towel rail still has its place, a towel warming cabinet/frawer takes it to the next level.
If you're considering a bathroom renovation, download our free planning guide to help you.