Date: 1 August 2017
Kiwis love to entertain and, for the most part, we're lucky to live in a place that allows us the space to do so. If you're thinking of building or renovating and entertaining is something you enjoy, think about what you might need from your new space and share this vision with your architect or builder. Here are 8 things to consider when creating the perfect home for entertaining:

What kind of entertainer are you?
Will you need lots of movable space to throw lively cocktail parties or are you more into intimate sit-down dinners. And come summer, what about your outdoor area?


Room layout/furniture
Design decisions should be based around a smart use of space so your home remains comfortable when it's just you, but all it takes is a simple rejig of the furniture and your home is ready for guests to freely and easily move about.


Think about seating
People won't be standing and moving all the time so seating will be a must. If new furniture is in the renovation budget, invest in smart, multi-use furniture such as a coffee table with ottomans or benches tucked under.


Create good flow
Ensure the key living areas are connected; in most homes these are the lounge, living/family room, kitchen and dining area. If you're not a fan of open plan, you can retain distinct spaces but still be connected by widening doorways, having half walls or bi-fold doors.


Kitchen and dining
With open plan design, the kitchen/dining area is the new heart of the home. It's such a multifunctional area with comfortable seating for relaxing and a practical space for serving food and drinks.
Outdoor kitchens are increasingly popular for keeping guests and hosts together. If that's not in the budget, think about how you could connect your current kitchen visually and physically with the outdoor entertaining area – maybe sliding or bi-fold glass doors?
When it comes to renovations that also add value to your home, the best things to spend money on are the functional service areas such as the kitchen and bathroom.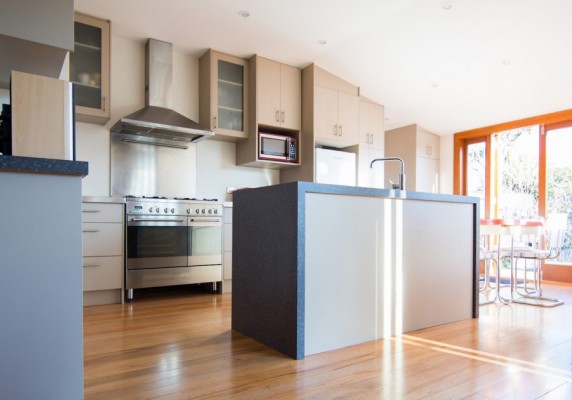 Set the mood
The overall ambience and vibe can make or break a party so think about your technology options. For a reasonable price you can have speakers in the main living areas (even outside) so you can easily regulate music volume.
Lighting is part of this category too. A mix of direct and indirect lighting with adjustable brightness levels can work wonders on setting the right mood.

Storage/de-cluttering
If you do it often and for large groups you probably have chairs, punch bowls, platters and fairy lights that need to be stored so bear a quick thought for that when making your home an entertaining haven. Likewise, having somewhere to put all the regular clutter before guests come over is important for entertaining too.

Outdoor area
The ultimate outdoor entertaining area flows seamlessly through to the indoor area so as not to disrupt the party. To ensure the mood flow through both spaces too, have speakers installed outside.
Investing in a good BBQ is never a bad idea. To make it an even better idea, build a sheltered (but well ventilated) area for the BBQ to sit so that it can be used for cooking year round.
Building a deck can also make a big difference to the value of some houses as long as it adds to the usability of the outdoor area. If it needs steps, wide ones make great extra seating when everyone's outside enjoying BBQ.